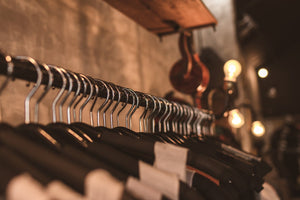 Frequently Asked Questions
We are an awesome company out of beautiful Pennsylvania, USA with Brazilian and Irish and Polish roots.  
Learn more about our founders in the "About Us" page.
We design and create handcrafted purses designed to never go out of style, and we like to make them in a responsible way.
Yes - we offer free ground shipping to the continental US only (shipping to Alaska & Hawaii will be calculated at checkout).  
Click here to see more information on our return/exchange policy.
We hate waiting too, but this happens sometimes. Sign up to be notified when we restock a purse, and you'll get notified when it's back.
You also may have the option to Pre-Order and you will be only charged at the time you pre-order. Shipping fees, taxes and import duties, where applicable..
All orders will ship in 24-48 hours after the order has been placed. Please add one business day to any shipping estimates.
If you select our free shipping option at checkout, your order will arrive in 3-6 business days. We also offer expedited shipping options.
We offer free complimentary (3-6 business days) shipping.  2-day and Standard Overnight shipping are available at market cost. Because all orders ship on the following business day, please add one additional business day to every shipping estimate.
You can find your tracking information on your order confirmation email. If you are having trouble finding your order confirmation email, feel free to reach out by email at customerservice@shanpaulo.com.
Oh no!  Reach out to the SHANPAULO Customer Team with your tracking information and correct shipping address. We will get your issue sorted out as quickly as possible. customerservice@shanpaulo.com
We currently do not ship to any other countries, however if you are really interested in our beautiful purses, please contact us by email and we perhaps can open exceptions.
We cannot modify orders once they are placed. We will only ship to the address provided at checkout. Orders with incorrect billing information or requiring additional verification will be delayed and/or cancelled.
Your return shipping cost will be on us within 14 days of delivery date. Once your return has been accepted, we will provide you with a shipping label, worry-free.
You can expect to receive your refund within 10 business days after your return has been shipped.
Returns in New Condition
The Goods must be returned with all SHANPAULO tags still attached and must be in their original packaging such as ShanPaulo branded boxes and dust bags. The Goods were not used or damaged.
You have 14 days from delivery to return your SHANPAULO purses. If your return window has elapsed, please contact customer service for help.